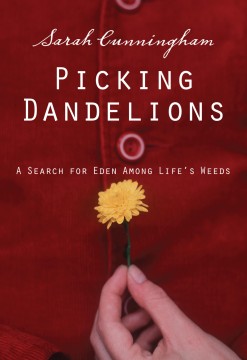 A month or so ago I jumped at the opportunity to host Sarah Cunningham on her blog tour for "Picking Dandelions." Yesterday, I sat down with Sarah via Skype and chatted about the book with a little life and ministry sprinkled on top  for good measure. Since I'm all about stories, I didn't want to do a typical question/answer interview format here on the blog. So, instead, you get my interreview – little bit review, little bit interview, and hopefully little bit story.
For those who haven't read the book, Sarah is quite open about her character flaws and the roller coaster ride she's been on trying to tackle them. What would cause someone to sit down and write a book about their faith journey knowing full well revealing their flaws to the world would be part of it? Sarah wants people to know that their story of faith is important no matter how simple it may seem. She hopes that her story, flaws and all, will attract the attention of someone who isn't looking for a Christian memoir, but maybe for a story of spirituality.
Sarah's faith journey is a simple one, one that brought her to the metaphor of dandelions. She sees her faith as a simple gift she offers just as children might offer their mothers a simple dandelion picked from the yard. I loved this about her story because I can so relate. Growing up in the church faith was something that I always had, it wasn't a dramatic conversion experience, and there were times when I felt I had missed out because of that. I read "Picking Dandelions" and thought, "it's nice to know I'm not alone."
In the church world we hear a lot about "Big Ideas." The "Big Idea" of "Picking Dandelions" is transformation and the need for intentional ongoing change in the Christian Life. Sarah chronicles this journey in her own life with great humor and honesty for her readers in a Donald Miller-esque style. One change Sarah tackled was clutter, namely material clutter. Being a bit of a "hate clutter but can't throw things away" person myself I was curious if Sarah had conquered clutter in her life. She says she has in some areas of her home like the living room and kitchen. Others, like her closet, however, are a bit of a different story. A great tip from Sarah for those looking to reduce clutter – put a post it note on clothing or shoes that you know you don't wear on a very regular basis. Every time you where it, write the date on the post it note. Check the date the next time you use it. When you see it was a year and a half ago, you'll probably be inspired to get rid of it .
Working in a church I was curious how we as the Church can promote or encourage this idea of transformation and the need for change. I asked Sarah her thoughts and the answer she had was quite simple: with everything that you do – every Bible Study you start, every Sermon Series, every song – ask if it is leading people to be more like Christ. I think this is something our churches need to start striving for. (By the way, if you want to hear more of Sarah's thoughts on this, check out this article).
After reading Sarah's book, I'm inspired. I'm inspired to share what I think is too ordinary. One particular paragraph stuck with me from "Picking Dandelions." Sarah writes, "As I've lived and written about changes in my life, I've come to believe that the most powerful transformations are not distinctive, exclusive discoveries that separate one film writer's or one author's experience from the rest of humanity. Instead, they are ordinary stories that point to the extraordinariness of Eden growing up among the everyday weeds of our lives."
So, if you grew up in the church feeling gypped because you didn't have a dramatic dark to light experience as a believer, then, "Picking Dandelions" is for you. Or if you did have a dramatic dark to light experience but now, some time later, you question how much your life has really changed as a result. Then, "Picking Dandelions" is for you too. Maybe you just want to read about someone else's flaws to make yourself feel better? Well, then, this book could work for you too.
But, be warned. As you read "Picking Dandelions" you will probably be, much like I was, inspired to take a good hard look in the mirror and give your character a check-up. And, well, you may not like what you find. The question will be whether you live with it or make a plan to change it.
* For more of Sarah's writing check out her blog at www.sarahcunningham.org
* Buy the book on Amazon: Picking Dandelions: A Search for Eden Among Life's Weeds
.